Black for miles. Generations of blood, sweat and tears reduced to ash. Driving into Ashland, it was almost poetic that the "Eye of the Storm" faded in and out across the radio just days after Kansas' largest wildfire.
The leading lines heading into the Comanche County town of 850 people weren't painted yellow and white. Instead it was a trail of black, where the hot flames crossed Hwy 160 as it jumped from field to field. Fire damage visible in all directions – yet in the center Ashland stood tall, untouched by the blaze.

"I truly don't know how the town was saved – there was a blanket from above over us," Jeff Kay, Ashland Feed and Seed owner, recalled. The fire got within ¾ of a mile from his family's home and business that has set on the south end of town for decades. He told me he didn't leave when emergency personnel prompted evacuations Monday night.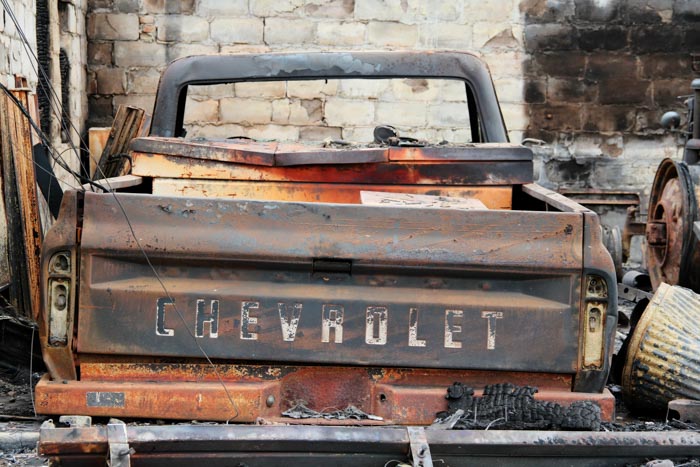 Fires destroy old Chevy outside of Ashland

Jeff, a DewEze dealer in southwest Kansas, has been coordinating hay relief efforts since before the flames died down. At 3:30 a.m. Tuesday, he was fortunate enough to finally take a break in his recliner and eat a slice of ham and cheese. But it was only a couple hours later that his phone started ringing - people inquiring about how they could help.
"I said, 'the heck with this,' and I got up and have been working the phones and taking deliveries ever since," he confessed.
"This is the most beautiful country when it rains" - Jeff Kay, Ashland Feed & Seed
He took me out to the Jim Miller Ranch north of town. Rare signs of life emerged in the middle of the darkness. A child's treehouse just yards away from the scorched earth. A newly constructed home with the first few traces of spring sprouting from the ground. A mama tending to her days old calf. And a sea of green winter wheat, budded up next to the charred hills.
"This is the most beautiful country when it rains," Jeff expressed.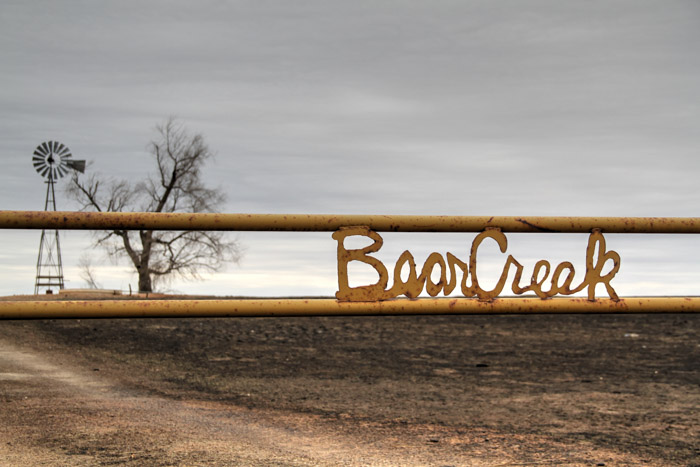 Fires blackened Bear Creek Ranch
We crossed the cattle guard and headed down into the ranch. It's where Rod and Patty Young's home once stood. And where 700 head of cattle, many preparing for calving season, previously grazed on some of the most abundant grass in years. But the cattle were not being herded to another field, trailer or a corral. Ranch hands were assessing the number of cattle lost in the fires.

Jeff led the semi near the 100 head that managed to survive. They were being held in pens, feeding on a previous delivery. He got out of his dusty and smoky farm truck to greet Patty. They shared a long embrace.
Patty, Chief Nursing Officer for Ashland Health Center, wasn't able to see the destruction first hand until hours after the evacuations. Her first priority was at the hospital. She told me she was just worried about keeping the people safe – an amazing feat considering the severity of the situation. You could see the sadness in her eyes as she talked about those that did lose their lives trying to save livestock.
Jeff's phone rang again. Another hay delivery was on its way into town. I hugged Patty, thanked her for her time, and got back on the road with Jeff. He took another five calls on the ride back to town. He said he wasn't taking the weekend off.

"These farmers don't get to take the weekend off, and I gotta do my part," he offered. "I'm there for the people."

I noticed another four semi loads of hay roll into Ashland as we wrapped up our visit. I asked if he's had time to reflect on the past week and find a spark of hope despite the losses. He said he's proud of the agriculture community for coming together and working through the hardship.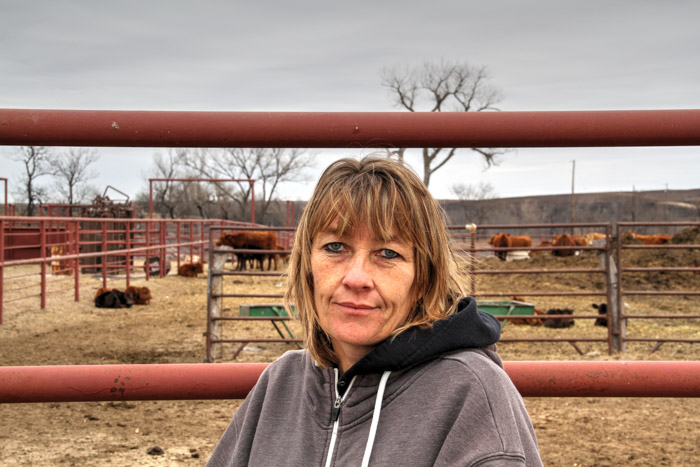 Patty Young, Ashland fire victim

"I know we farmers hate to ask for help, but we need it," he continued. "Farmer for farmer, we're in this together."
Jeff emphasized while he's grateful for the outpouring of support this week, deliveries are starting to pile up. He asked that those willing to donate call back in a couple weeks, or even month after things settle down.
The Kansas Livestock Association is initiating relief efforts for wildfire victims. Funds generated through donations are tax deductible, and will be used to support ranchers build up hay reserves, replace fencing and restore personal property.